The 5 cubes sculpture project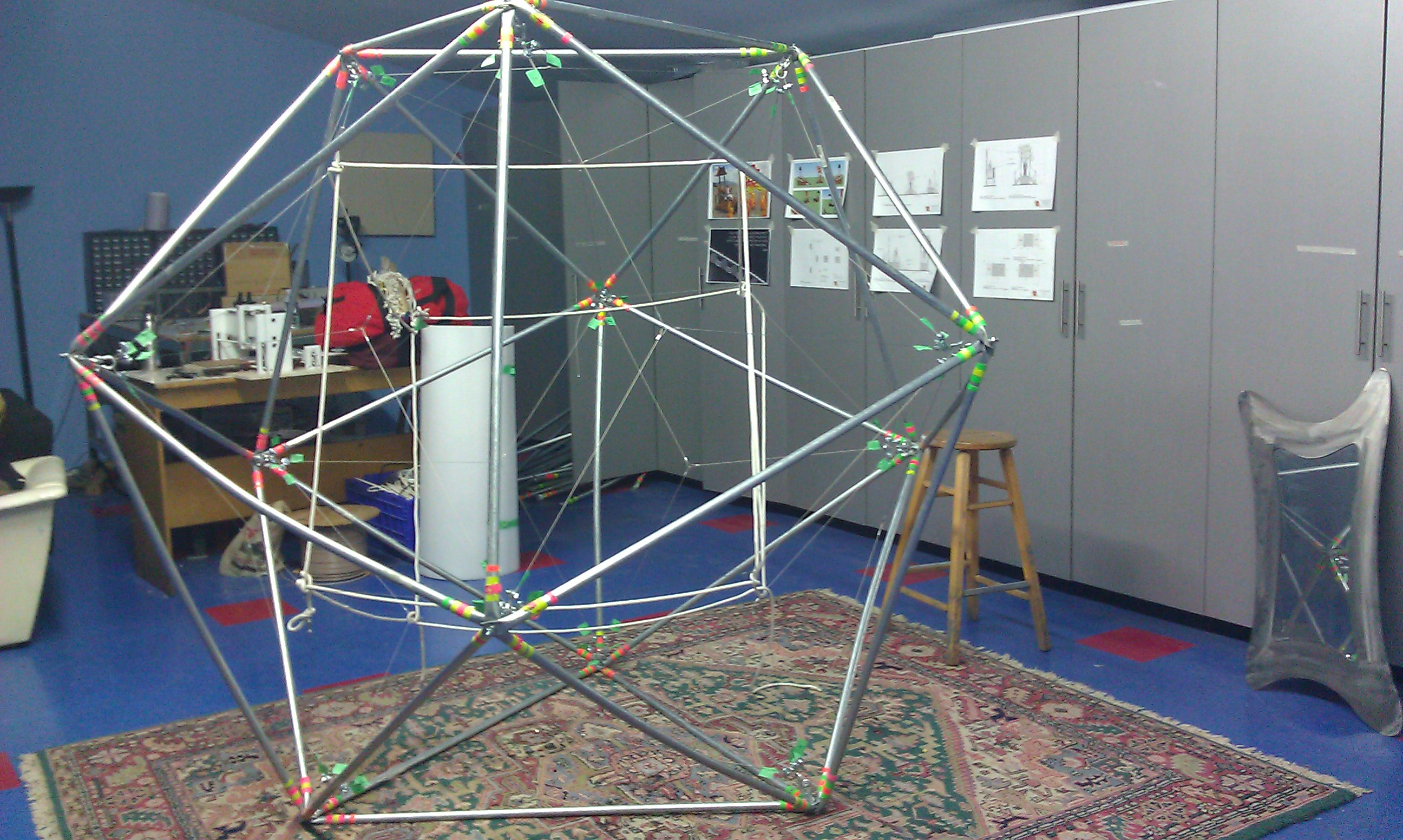 One of the 5 cubes fashioned crudely of rope immediately after the completion of phase 2

Project description
The 5 cubes sculpture project is a project to build a large, luminous geometric sculpture to bring to Burning Man 2010 eventually. Since phase one of the sculpture was enjoyed so much at Cold Compress (the Toronto decomp for the 2010 burn), as something that could be climbed in and moved around, subsequent phases were postponed for about a year as we built more for climbing, etc..

Now that there are enough deathtraps in circulation, we're getting back to work on the cubes (though there are still occasional pauses to build more deathtraps when the existing ones break or get get given away).
Did anything else change?
Well, in order to allow phase one to function both as a deathtrap and a 5-cubes frame, the idea came up that the support wires could be attached to the eye bolts using a shackle, instead of being looped directly on. This seems like it'd be a good idea for minimizing terrible tangled messes that would have to be untangled during assembly, so it's been done even though there are other frames for playing in (and the 5 cubes frame is old enough to probably break if it's used for any more climbing).
Project Status
Phase zero: master planning -- COMPLETE!
Identify suitable materials
Choose a display size
Compile a preliminary shopping list(here)
Identify and group/order work needed
Start trying to recruit volunteers to help
This phase was created so that I could feel like I accomplished something before anything got built. It actually involved a nontrivial amount of work (e.g. size calculations, material decisions, etc.).
Phase one: frame -- COMPLETE!
Choose icosahedral vs. dodecahedral frame
Calculate strut length needed for desired display size (4.5 feet)
Get quotes and weights for various strut materials
Select one of the strut materials
Raise funds (decomp grant w00t)
Buy the strut stock (EMT conduit; also need fasteners, drill bits, and chopsaw wheel)
Hold a strut-fabrication party
Do a test-build
Now that this phase is complete we have a ~7.5' steel icosahedron that can be brought to parties. Thanks to the Toronto burner community for providing an art grant to cover most of the material costs, and special thanks to Paul, Reid, Chris, and everyone else who volunteered to help with this phase.
Phase one and a half: plan adjustments -- COMPLETE!
This phase led to the forking off of Dr. Kiwano's Geodesic Deathtraps
Phase two: vertices -- COMPLETE!
Measure/compute length of cable needed to support vertices (210')
Get quotes and weights for various cable materials and loop types
Select a cable material and loop type (3/64" 7x7 stainless cable, finished with bicycle shifter cable endcaps, with crimps (light end) and drilled bolts (frame end) to close the loops)
Raise funds (not that costly)
Buy the cable (also shackles, nuts, bolts, loop crimps, washers, and cable ends)
Cut the cable and crimp the loops into the light/inner end of the cables
Drill cable holes in the frame-end-loop bolts
Hold a vertex-mounting party (with another test build, and measurements)
Now this phase is complete, there's a neato little wire lattice for inside the icosahedron. It still lacks fire and fancy lights, but can probably find a home at events regardless (though I'll probably bring deathtraps instead, since the struts are getting weakened from all the climbing that it's supported so far). Thanks to Carey and Carl with help designing and sourcing the support cables, to Dan for help with fabrication, and to Ewan for help tuning and labelling the supports.
Phase two and a half: plan adjustments
This phase consisted of making a few minor adjustments to EL wire connection in subsequent phases in order to reduce material costs without sacrificing portability.
Phase three: EL wire
Compute length of EL wire needed for the shapes (44' for the cubes, 70' for the dodecahedron)
Spec out drivers for the EL wire (12v driver that runs 328' should cover the 290' of wire to be used)
Get prices (nearly $800 for materials)
Raise funds (raised as of Mar. 5, 2012: NIL)
Buy the materials
Enlist a legion of slaves volunteers to solder hundreds of EL wire splices
Do a test build and make adjustments as necessary
When this phase is complete, all the shapes will be present, and can be made to glow in the presence of a source of electricity (though not to blink). Now it's totally worth schlepping around to events.
Phase four: Manually controlled blinking
Lay out/design control panel
Get buttons, switches, wire, and cabinet material
Assemble
Phase five: Automated blinking
Draw up a schematic for the blinky logic(here's the SVG file)
Identify necessary components and price them out(details)
Buy the components
Breadboard, test, and build the circuits
Do another complete, running test build
This is the final phase of the project. Everything else after this is logistics and modifications. Design and construction details will remain posted in order to enable other people to develop interesting modifications. Note that the logistics are expected to be difficult.